Creative Team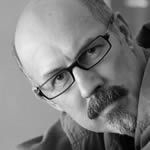 Paul co-founded Urban Theatre Projects (Death Defying Theatre) in 1980. Across three decades, he combined creative arts practice (scriptwriting, producing, film and theatre) with academic environmental studies and community engagement. He developed Australia's first full-length verbatim play Aftershocks with the Newcastle community and adapted this into a mainstage play and a film. Paul is co-author/editor of Verbatim: staging memory and community, and co-author of Art and Wellbeing. Paul is an Asialink Writing Resident in 2013.
Ellise Barkley: Program manager and evaluation coordinator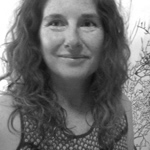 Ellise has 20 years of management and research experience in community development, creative arts, education and sustainability. She has completed a Doctor of Creative Industries (DCI) at Queensland University of Technology, for research on evaluation and the READ model. Ellise was Senior Education and Engagement Officer for Wyong Shire Council, Strategy Consultant for Blacktown City Council, and has coordinated engagement and creative projects in business, education and community settings; including managing the Comboyne Community Technology Centre in rural NSW, and a national design and innovation program at the University of New South Wales involving 900 high schools.
Jessie Boylan: Photographer, facilitator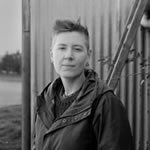 Jessie is a photomedia artist and a key member of the Atomic Photographers Guild, who has previously photographed nuclear sites in collaboration with nuclear veterans. A finalist in the Spirit of Youth Awards, 2009, she held an Australia Council ArtsStart Grant in 2010. Recent work includes: Behind the Atom Curtain, Life and Death in the Nuclear Age (2012), exhibited in Australia, USA and Brazil and Maralinga Pieces (2012), for the International Uranium Film Festival in Rio De Janeiro, and as Official Selection for SoCal Film Festival, California. She produces The Radioactive Show, a weekly segment for 3CR radio. See jessieboylan.com
Russell Bryant: Yalata Men's Sculpture Group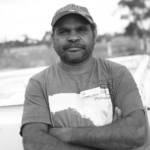 Russell Bryant is a singer, guitarist and harmonica player, and a key member and organizer of the Yalata Band. Russell is a resident of Yalata Aboriginal community in the far west of South Australia. Russell also appeared in "Ngurini" (Searching) a video production made in collaboration between Alphaville and Yalata community. He has played the lead role in establishing arts activities at Yalata, including its sculpture group, and is a member of the design team that is developing sculptures in partnership with Alphaville's Nuclear Futures program. He is also a Lutheran pastor, and a member of the Maralinga Tjarutja Council.
Jane Castle: Film and multi platform director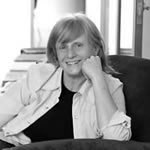 Jane is a multi-award winning filmmaker, cinematographer and community artist who has worked in the US, UK and Australia on numerous feature films, documentaries and music videos. Her work has been highly awarded by the Australian Film Institute, Australian Cinematographer's Society, Kodak Awards, Dendy Awards and Queer Screen. Jane shot and directed for Alphaville the SBS funded documentary 60,000 Barrels about a community's fight with toxic industry. Jane is an environmental campaigner – for Total Environment Centre and Greenpeace. She co-created Ends of the Earth with Linda Dement, an installation responding to climate change, for SA School of Arts and the Centre D'Art I Natura in Farrera, Catalonia.
Teresa Crea: Dramaturgy and Concept Development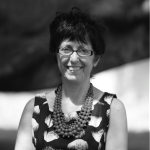 Teresa is a leading Australian writer, director, facilitator and artist in community. Trained in film and theatre, she co-founded Australia's first professionally recognised bicultural performance company, Doppio Teatro, and received national awards for seminal contribution to multiculturalism in the arts. As a creator and director, her recent interests have gravitated towards hybrid and new media art, and her work now spans from grass roots and participatory projects, to contemporary experimental productions and live art events. Teresa was awarded a New Media Arts Fellowship in 2003. For the 2015 Adelaide Fringe Festival 10 Minutes to Midnight installation, Teresa has led the Dramaturgy and Concept Development.
Linda Dement: Multi-media artist, facilitator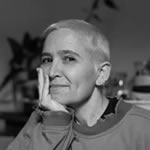 Linda is a multi-media artist whose work takes up issues of disturbance, co-mingling corporeality with the digital and electronic. She is internationally recognized for interactive, online, installation and augmented reality artwork. She was awarded a New Media Arts Fellowship by the Australia Council in 2000 and has twice won the National Digital Art Award. Recent works include augmented realities Kill Fix and Killing the Host and collaborative live events Bloodbath by Bump with the Sydney Roller Derby League and MF2012. See lindadement.com/
Carly Friedrichs: Project and Event Coordination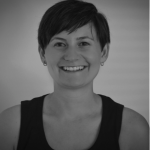 Carly is based in Balaklava and joined the Nuclear Futures team in April 2014. Her previous roles, experience and qualifications include community development, administration, systems analysis, event coordination and project management. Carly currently owns and operates her own business in Balaklava and has worked closely with the community on many projects.
Maxine Goodwin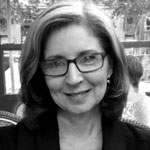 Maxine is the daughter of a nuclear veteran. Her father witnessed the first British atomic bomb test in Australia in 1952, and died from cancer aged 49. Maxine's goal is to uncover what her father experienced, learn how the nuclear tests will affect the many descendants, and continue to tell this story. Having previously worked as a Paramedic, Maxine currently works for a charity addressing the needs of newly arrived refugees.
Luke Harrald: Sound Design, Composer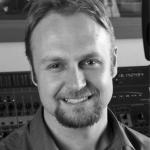 Luke is a composer, performer and new-media artist known for his groundbreaking work with improvisation and interactive computer music. He is currently the head of studies for the Popular Music and Creative Technologies program at the University of Adelaide, and lectures in Sonic Arts. Luke has performed internationally (in London, Paris and Montreal) and is an important contributor to the Adelaide art music scene.
Steve Harrison: Yalata Men's Sculpture Group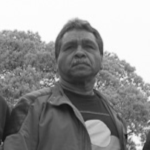 Steve is an Anangu carver and painter from Yalata, who is the Leading hand for the Yalata sculpture project. Steve has experience across South Australia, as a youth worker with at-risk children on the streets of Adelaide, as a landscaper in Port Augusta, and he currently works in Yalata on community projects. These include renovation and design of memorials, headstones and crosses at the Yalata cemetery. His artworks include ground installation at Pika Wiya, the Port Augusta Aboriginal Health Centre, as well as carved artefacts. He has recently embarked on large scale carving using found timber and machinery.
Avon Hudson: ANVA liaison, community archivist, writer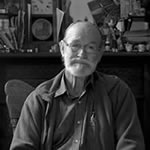 Avon is a veteran of British nuclear testing who served at Maralinga and Woomera in the 1950s and 60s. As a leader within the Australian Nuclear Veterans Association (ANVA), he has been a prominent advocate for recognition and compensation for Australia's nuclear veterans' community. Avon is also a wood turner and a collector and designer of clocks; and co-authored a book on the experiences of nuclear veterans and their families titled Beyond Belief.
Rico Ishii: Cultural liaison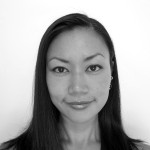 Rico Ishii has worked as outreach and communication officer, media trainer and journalist over the past ten years in the fields of nuclear free movement, human rights and democracy. Rico holds a M.A. in Media, Peace and Conflict from United Nations mandated University for Peace and currently
works as an independent consultant and a media expert of peace process and conflict resolution in Myanmar.
For Nuclear Futures, Rico has been involved with the international youth leadership workshops and the Nagasaki Peace Park sculpture process among other things.
Tina Jackson : Program development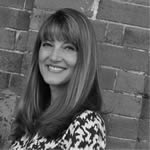 Tina has over twenty years experience as a manager and director of not-for-profits spanning arts, culture, media, education, architecture and the environment. She is Co-founder and Chair of the social and environmental advocacy organisation, Do Something, and former Executive Director of the National Trust of Australia where she led campaigns to protect and save Australia's endangered natural and built heritage. Previous roles include CEO of Arts Training Australia, Manager of the NSW Institute of Architects and senior positions in the ABC and ABC Staff Union.
Yukiyo Kawano: International collaborator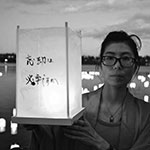 Yukiyo a third generation hibakusha (nuclear bomb survivor) grew up decades after the bombing of Hiroshima. Her work is personal, reflecting lasting attitudes towards the bombings of Hiroshima and Nagasaki. Kawano's main focus is her/our forgetfulness, her/our dialectics of memory, issues around cultural politics, and historical politics. For the sculpture she is showcasing via Nuclear Futures, she has used pieces of translucent kimono fabric and sewed together with strands of her hair (the artist's DNA as a third generation hibakusha) to form a suspended soft silk sculpture of a life size atomic bomb. Kawano is currently living in Portland, Oregon. See yukiyokawano.com
Danielle Marwick: Cinematographer and documentation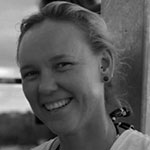 Danielle started her career as a photographer and transitioned over to screen a few years later. She studied Film and Media at Murdoch University and has worked in the Philippines for a film, television and underwater studio, an opportunity that offered diverse cinematography training and experience. She has worked on documentary style and community-based filming in remote parts of Victoria and South Australia, and on large scale events with remote control cameras at the London Olympics.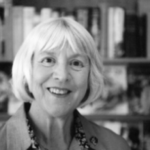 Christobel is a prolific author mostly of children's books, with over 60 titles in her career. Many of these projects have been as author in community. In 2009 she co-authored Maralinga, the Anangu story with members of the Yalata community. This received several awards including Honour Book Children's Book Council of Australia Eve Pownall Award for Non-Fiction 2010. See christobelmattingley.wordpress.com
Nic Mollison: Projection and Lighting Designer
Nic has extensive experience in stage lighting & projection design and has worked with a diverse range of theatre, dance & youth arts companies on local, national & international productions, including lighting & video projections for concerts, festivals, nightclubs & visual art installations. He has also lectured in lighting & Projection at the University of SA and The Adelaide College Of the Arts, since graduating from the Western Australian Academy of Performing Arts (WAAPA) in 1995.
Gordon Murray: Theatre Director
Gordon is a lecturer at University of Winchester, and has worked as a freelance theatre director for 20 years, as well as running a London theatre venue. As an applied theatre practioner he has worked in prisons, SEN schools (Schools of Special Education Needs), and development projects in Asia and Africa. He is an associate of The Miniaturists a writer led theatre project housed at the Arcola Theatre for who he regularly directs plays and works with new writers.
Warren (eBay) Paul: Line drawing Artist and Sculptor
Warren is an illustrator from Yalata in the far west of South Australia. His intricate line drawings depict local scenes, the landscape of Yalata viewed from the air, animals and vegetation, dreams and political viewpoints. His works have been distributed via the Ceduna Aboriginal Art Centre, and examples are exhibited at Tullawon Aboriginal Health Centre in Yalata. In 2014 Warren embarked upon a major program of sculpting, pottery and line drawings, in an exploration of the images and impacts of the atomic bomb. He is working in collaboration with the Ceduna Aboriginal Arts Centre and the Nuclear Futures program to realise this work.
Keith Peters: Musician/Songwriter
Keith is a guitarist, keyboard artist, singer and songwriter based at Yalata in far west of South Australia. He is lead singer for the Yalata Band, which has recorded multiple albums or original songs in the "Yalata Sings" series. The band recently appeared at the inaugural Yalata Festival. Keith is also a key spokesperson for the Yalata community, and for Maralinga Tjarutja Council. He has represented the Maralinga communities in handover ceremonies returning control of Maralinga Lands to Anangu. He has long been an advocate for cultural rights and the maintenance of the Yalata Indigenous Protected Area, including the call for community housing and local services, and for local cultural tourism industry. He recently made a key speech on the history and future of the Maralinga bomb test sites (Section 400) in a ceremony to mark the return of unrestricted access rights.
John Romeril: Playwright in residence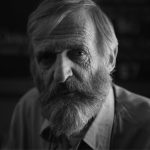 John is a leading Australian playwright. His plays include The Floating World, Carboni, The Kelly Dance, Miss Tanaka and Jack Charles versus the Crown among many others. John has been Playwright-in-Residence for many communities, theatre companies and tertiary institutions. In 2003 he won the inaugural ANPC Award for Australian playwrights who have made a significant contribution to national theatre and culture; in 2012 the Green Room Lifetime Achievement Award. His most recent community play is Dancing The Line, for the Torres Strait Islander Railway History Group.
Mel Rumble: Communications and content strategist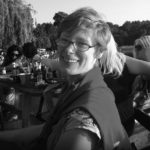 Mel is a production editor, subeditor and web content curator, with a background in science communication and environmental education. She puts these skills into action as the founder of Reframeable. Mel has recently returned from living in the UK and is currently working as the content strategist for Telstra's Experience Design team, which employs the principles of user experience, universal design and design thinking on a daily basis. Mel is also enrolled in the master of strategic foresight program at Swinburne University of Technology. See melrumble.com
Ray Thomas: Screen Editor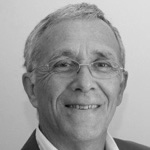 Ray Thomas has worked on award winning Australian documentaries over the last 30 years, including:- Black Harvest [1991], Rats In The Ranks [1996], The Diplomat [2000], 60,000 Barrels 2002, Molly and Mubarak [2003] Mrs Carey's Concert [2011] and Hungry Tide [2012]. He won an AFI Award for Best Editing of a non-feature film, Rats in the Ranks in 1996. Ray works consistently with many of Australia's leading documentary makers for television and cinema.
John Turpie: Sculptor and facilitator
Sculptor, printmaker, painter and graphic designer John Turpie has worked on numerous public art commissions, with non-Indigenous and Indigenous communities in South Australian and the Northern Territory. John has presented in numerous exhibitions and his works reside in public and private art collections. He was instrumental in devising the Elliston Sculptures by the Sea. His awards include the Port Pirie Art Prize (2000) and the City of Whyalla Art Prize (1999 & 1995). John's sculptural practice bears the stamp of later 20th century conceptual art, and incorporates a preference for using found objects and materials.
James Arvanitakis: Research, analysis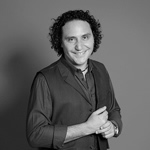 Professor James Arvanitakis researches in the transdisciplinary areas of globalization, citizenship, young people, security and the cultural commons – incorporating issues around hope, trust, safety and intellect. Having held various positions within human rights-based organisations including AID/WATCH and Oxfam Hong Kong, his research seeks to maintain a particular focus on issues of social justice. He has also worked with playwrights and artists to document stories of injustice.
Mick Broderick: Workshop facilitator, research and analysis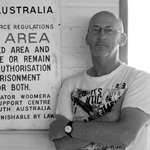 Mick is Australian coordinator of the Global Hibakusha Project, and Associate Professor of Media Analysis at Murdoch University. He has produced extensive creative work and scholarly writing on nuclear issues with atomic survivor communities, and research for the UN's International Atomic Energy Agency film library and the Australian National Museum – auditing the nation's atomic heritage. His exhibition Atomicalia was installed at museums in Japan during 2009-10, and he curated The Atomic Age in Film for Physicians for Social Responsibility to commemorate the 50th anniversary of the nuclear age.
Bo Jacobs: Workshop facilitator, research and analysis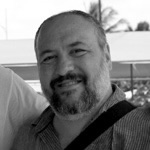 Currently at Hiroshima Peace Institute, Bo coordinates the Global Hibakusha Project. He studies nuclear history and culture in the US and Japan – collating narratives of a future disrupted by nuclear weapons. He works with hibakusha communities in Marshall Islands, Japan, Kasakhstan. Editor/contributor of Filling the Hole in the Nuclear Future: Art and Popular Culture Respond to the Bomb.
Ingrid Matthews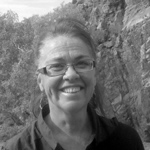 Ingrid is a research officer at the Institute for Culture and Society, University of Western Sydney; and session lecturer at the UWS School of Law. She has also worked as project manager on Caring for Country with UWS at the School of Environment, with women escaping domestic violence in Alice Springs and Armidale, and is a founding volunteer with Yellomundee Aboriginal Bush Care. In 2007 Ingrid was awarded the undergraduate Human Rights Law prize by the NSW Bar Association.
N.A.J. Taylor: Writer, editor, curator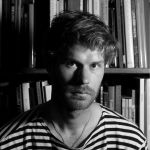 N.A.J. Taylor has taught at La Trobe University and the University of Queensland, and has held or will hold visiting research fellowships at Roskilde University, Bard College, La Trobe University, Linkoping University and The New School, where he was an Australia Awards fellow. His research focuses on alternative pathways to WMD-free worlds, particularly from inter-cultural and interdisciplinary perspectives. He also tweets: @najtaylor.
James Thompson: Research, analysis
James co-founded the In Place of War project and was the co-founder of the Theatre in Prisons and Probation (TIPP) Centre in 1992. He has run applied theatre programs and researched theatre projects in the UK, Burkina Faso, Brazil, Democratic Republic of the Congo, Rwanda, Sri Lanka, Indonesia and the US. James is based at Manchester University, as Professor of Applied and Social Theatre and Executive Director of the Humanitarian and Conflict Response Institute and Centre for Applied Theatre Research.