Field of View exhibition
Field of View | 2014 | Balaklava, South Australia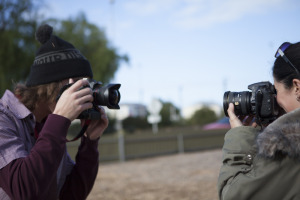 How do you photograph something you see every day? How does the landscape around us affect how we experience the world? In this exhibition, participants from the Wakefield region responded to sites that have been part of their 'field of view' while living, or growing up here. It is quite a skill to be able to move a few steps back to see something with fresh eyes in order to make an interesting and beautiful photograph.
Being local also enables the artists to offer a unique vision and insight into the everyday, into what others may see as ordinary, or not see at all. The exhibition portrays exactly this kind of unique vision, and prompts us to step back and look around us afresh.
The Field of View exhibition presents original photography by locals from the Wakefield region and is the culmination of a community arts project hosted by the Wakefield Regional Council Youth Advisory Committee (YAC).
Through the project, participants have been engaged in photography workshops, mentoring and skills development with professional artists Jessie Boylan and Lisa Redpath. On offer was an open community workshop, one-on-one sessions, as well as a photography field excursion tailored for young people.
The Field of View exhibition is a joint initiative of YAC and the Nuclear Futures program, an international arts and cultural initiative working in Balaklava over 2014. The project has been assisted by the Australian Government through the Australia Council, its arts funding and advisory body, Arts SA and is endorsed by Wakefield Regional Council.
Final works:
Photography workshops:
Setting up the exhibition: