Featured content
Featured video, audio and web content on the Nuclear Futures program, communities, artists, creative works, and atomic art of interest. See In the Press for more published media on the Nuclear Futures program.
Videos
Yalata community, artworks, and the 'Nuclear' exhibition at Tandanya
ABC News clip. October 16, 2016.

Ebay makes the bomb
A 4-minute webisode following Yalata Anangu artist Warren Paul (Ebay), as he makes the bomb.
Produced by artists Jessie Boylan and Linda Dement. December, 2014.

Web stories
Beyond Japan: Descendants of Atomic Bomb Survivors Convene in Hiroshima    September 15, 2015 
Story by Ari Beser in Fulbright National Geographic Stories on the youth leadership workshop delivered by Bo Jacobs and Mick Broderick (Global Hibakusha Project) for Nuclear Futures, in Hiroshima, Japan.
http://voices.nationalgeographic.com/2015/09/15/beyond-japan-descendants-of-atomic-bomb-survivors-convene-in-hiroshima/

Radio and Podcasts
Nuclear Hotseat #280 SPECIAL Podcast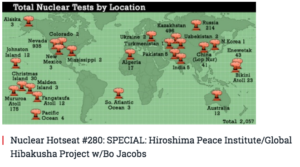 An in-depth interview with Hiroshima Peace Institute's Professor Bo Jacobs (interview starts at 4.44mins). Covers pertinent analysis of nuclear issues and an overview of the Global Hibakusha Project, including detailed description of the oral history, story sharing and skills development approaches being used with atomic survivor communities (linked with Nuclear Futures' international workshops). November 2, 2016. Source: Nuclear Hotseat Podcast by Libby HaLevy.
Understorey Radio Podcast – Tree of Life

An insightful 16-minute radio show featuring the Nagasaki Peace Park sculpture gifting, set within its broader international and political context. The podcast provides an informative backdrop to President Obama's 2016 Hiroshima visit, and explores the role the arts for conveying stories from affected atomic survivor communities. Produced by Adrian Glamorgan and Elizabeth PO' for the Understorey program on RTRFM (Western Australia), broadcast on 25th May 2016. Link to source or Nuclear Futures blog post with more information.
Political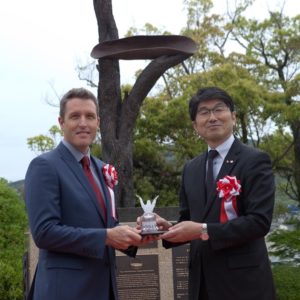 Mr Josh Wilson – First Speech 2016
Member for Fremantle, Western Australia
Monday September 12, 2016, Parliament of Australia
"Earlier this year I was in Nagasaki as part of the Mayors for Peace initiative, which saw the installation of the first Australian sculpture in the Nagasaki Peace Park. That sculpture was created by people from Yalata and Oak Valley in South Australia, communities that were forced from their land as a result of the Maralinga bomb tests and, in that sense, the bestowal of the sculpture formed a link between atomic survivor communities. The Hibakusha people we met in Nagasaki and Hiroshima joined with the South Australian mob in expressing a clear message: never again."
Watch speech here: Nagasaki sculpture reference starts at 14.44 minutes in.