In the Press
Across the Nuclear Futures program, the participating communities, artists and emergent creative works have featured widely in international media. Below is a sample of published articles, videos and news stories, which demonstrates the interest generated by the community arts activities and stories from atomic survivor communities. The media coverage has extended the public storytelling platform for Nuclear Futures' community partners and artists, and promoted journalism on Australia's atomic test history and its contemporary socio-political context. Please note, Alphaville and partners are not responsible for the accuracy, reliability and correctness of information published by third party media.
'Nuclear'
Adelaide Arts Showcase @ Tandanya (17 Sept -12 Nov, 2016)
ABC Australia Wide
November 19, 2016
News story by Elton Rosas on Yalata Anangu Community art projects and protests on nuclear issues. Screened on ABC News 24 and ABC iview. See video below. 
ABC Adelaide News
October 16, 2016
'Art helping nuclear surviving communities with grief' (7pm News)
Yalata community collaborators to Sing Maralinga and 'Nuclear'

Art Guide
September 21, 2016
http://artguide.com.au/artists-examine-fallout-from-the-atomic-age-in-nuclear
'InDaily' – Arts and Culture (Adelaide's Independent News),
September 20, 2016
See full story on link below.
Radio Adelaide Digital 101.5FM
September 19, 2016
'Creative reflections on the nuclear legacy'
Click here to listen to 15min radio interview with artist Steve Harrison and Creative Producer Paul Brown.
News.com.au Online story
September 19, 2016
'The secret destruction of Australia's Hiroshima'- Read story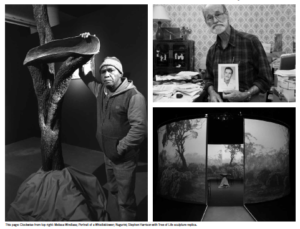 Aboriginal Way (A publication of the South Australian Native Title Services)
September 2016
'Reflecting on a nuclear legacy through creative arts'
See website for download: Spring 2016, Issue 64, p.12-13
————-
Yalata Community and Mayors for Peace Gifting to Nagasaki Peace Park – APRIL 2016
Here are some examples of the coverage for this awesome story- the first Australian sculpture to Nagasaki Peace Park:
Parliament of Australia
Mr Josh Wilson Member for Fremantle, Western Australia – First Speech 
Monday September 12, 2016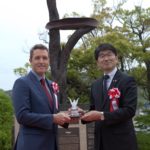 "Earlier this year I was in Nagasaki as part of the Mayors for Peace initiative, which saw the installation of the first Australian sculpture in the Nagasaki Peace Park. That sculpture was created by people from Yalata and Oak Valley in South Australia, communities that were forced from their land as a result of the Maralinga bomb tests and, in that sense, the bestowal of the sculpture formed a link between atomic survivor communities. The Hibakusha people we met in Nagasaki and Hiroshima joined with the South Australian mob in expressing a clear message: never again."
Watch speech here: Nagasaki sculpture reference starts at 14.44 minutes in.
The Huffington Post
August 9, 2016
'Indigenous Australia's Shared Legacy with Nagasaki's Atomic History' – Article and video
RTRFM Understorey
Radio podcast
May 25, 2016
The 'Tree of Life' radio podcast was produced for the 'Understory' program, on RTRFM (Western Australia), broadcast on 25th May 2016. It features interviews and background on the sculpture gifting project, Nagasaki Peace Park, facilitated by Alphaville and Nuclear Futures.
Australian Government
Department of Foreign Affairs and Trade website
May 5, 2016
Online post: 'Nagasaki Peace Park unveils monument gifted by Australian Indigenous community and Mayors for Peace'
ABC AM Radio
April 11, 2016
Interviews with Russell Bryant from Yalata, and Paul Brown, Creative Producer Alphaville. Great 3 minute overview about the Nagasaki sculpture gift project.
ABC News
April 14, 2016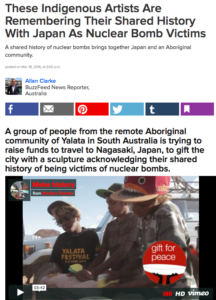 Buzzfeed, March 18, 2016
Click here to read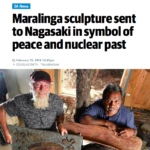 The Advertiser, February 19, 2016
Click here to read
Art and the bomb
3CR RADIO INTERVIEW- October 1, 2016
'Maralinga 60 Years On: Art keeps the stories alive': Produced 60 years on from the British atomic tests at Maralinga, the interview covers a series of touring exhibitions keep the stories alive through powerful artwork: 'Black Mist Burnt Country', 'Nuclear' and 'Collisions' – includes interviews with Jessie Boylan, Curtis Taylor, and nuclear veteran Avon Hudson. Source: 3CR 855AM Community Radio
ABC RADIO INTERVIEW- August 1, 2015
'Art and the atomic age': ABC Radio National's Books and Arts program host Sarah Kanowski's interviews Nuclear Futures Creative Producer Paul Brown discussing Australia's atomic legacies, and the new suite of creative works being generated with survivor communities via the Nuclear Futures program.
CAMPAIGN, the Journal of the British Nuclear Test Veteran Association
Summer, 2015
Various pages (p.27, 32-33, 38) cover Nuclear Futures' related art projects. See Journal here.

Global Hibakusha Project workshop, Hiroshima Japan 2015
National Geographic – September 15, 2015 
'Beyond Japan: Descendants of Atomic Bomb Survivors Convene in Hiroshima' by Ari Beser in Fulbright National Geographic Stories.
The Age – August 6, 2015
Hiroshima: A-bomb survivors who can finally tell their stories
This article follows one of Nuclear Futures' participants Kana Miyoshi on her journey of learning and reflecting on her Grandmother's hibakusha experience, and shares insights gained through the Global Hibakusha Project workshops facilitated by Bo Jacobs and Mick Broderick via Nuclear Futures. Includes 7 min video 'Inside the Dome' filmed in Hiroshima with Kana, produced by Stuart Bender and Mick Broderick.
10 Minutes to Midnight Showcases
The Block QUT, 2015
 'Art from Hiroshima, Maralinga explores legacy of atomic age' ABC Radio National- Books and Arts, August 5, 2015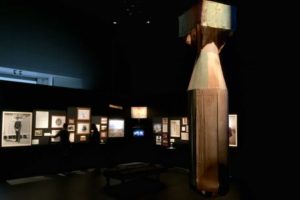 Adelaide Fringe Festival, 2015
Example of print media in Adelaide and the Wakefield region:
Radio Adelaide
for 'Breakfast' and 'Festival City'
Interview with Creative Producer Paul Brown about the 10 Minutes to Midnight showcase
February 9, 2015
Coverage of Artist in residence
Examples of coverage from Balaklava, South Australia- about Nuclear Futures creative residencies and script development
---
Global Hibakusha Project workshop – Marshall Islands, 2014
'The Ashes Haven't Stopped Falling' by Jessie Boylan, March 17, 2014
Open ABC article and slide show
---
Chugoku Shimbun News
March 1, 2014
'Young people from radiation affected parts of the world meet in the Marshall Islands'  by Jumpei Fujimura,
ABC News
March 1, 2014
Nuclear Survival Day Conference brings together World Youth to Marshall Islands, Australia Network News
---
ABC Radio National
February 28, 2014
'Youth gather in Marshall Islands for Nuclear Survivors project'
Listen to Interview with Rico Ishii, Mentor for Japanese community participants during workshop.
---
Hiroshima Peace Media Center
February 5, 2014
The article 'Young people from nuclear-bomb-affected areas to meet on Marshall Islands, marking 60th year of hydrogen bomb test on Bikini Atoll' provides details about several community participants attending the workshop from Japan.
---