Yalata Festival 2-5 June, 2015
The Nuclear Futures team is excited to be at Yalata, a vibrant and remote Aboriginal community in far west South Australia, to participate in the inaugural Yalata Festival. The Festival program includes a fantastic line up of cultural workshops, guest speakers, events, displays and tours across the 2nd – 5th June, 2015.
In partnership with Yalata Community and its creative artists, the Nuclear Futures program will run workshops and events across the Festival, including digital arts skills development, sculpture-making, film screenings, projection installations. We will help facilitate community exhibitions, creative experiences and cultural exchanges.
The Yalata community is primarily Pitjantjatjara Anangu who descended from the desert people in the north and north-west of South Australia. Pitjantjatjara is the first language of the Anangu and English is a second language. Yalata is an atomic survivor community. Its families were resettled from the Maralinga Tjarutja lands prior to the British atomic bomb tests in the 1950s.
Over the past 12 months Nuclear Futures has been working with Yalata Community on a number of community arts projects to produce a suite of new creative works telling community stories about survival, impact, resilience, successes and their hopes for the future.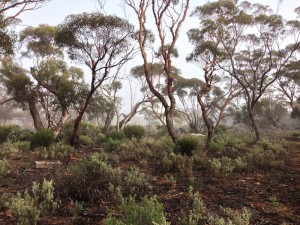 We are working with Yalata artists, including carver Steve Harrison, facilitator and musician Russell Bryant, translator and musician Keith Peters, filmmaker Rhonda Maher, painter Missie Windlass and potter and line drawing artist Warren Paul.
The Nuclear Futures team at Yalata includes creative producer Paul Brown, sculptor John Turpie, digital artist Linda Dement, photomedia Artist Jessie Boylan, filmmaker Danielle Marwick, AV technician Rowan Lee and manager Ellise Barkley. Special guests include Japanese cultural exchange liaison Rico Ishii (visiting Australia as part of an international residency to deepen connections between Yalata residents and Japanese Hibakusha communities), and playwright John Romeril.
As well as participating in the Yalata Festival, the Nuclear Futures team will be working on a new projection installation involving Yalata-based content, to be showcased in July at an exhibition at The Block, Queensland University of Technology. Design work will also continue with the Yalata sculpture group, working on a sculpture-gifting proposal for the Nagasaki Peace Park in partnership with Mayors for Peace (Australia), Nuclear Futures, and with financial assistance from the Australia Council for the Arts.