Good connections – Youth Leadership workshop, Hiroshima
Across three days, the international youth leadership workshop engaged six youth participants from Hiroshima, Nagasaki and Australia in digital storytelling skills development- teaching video making, sound recording, oral history interview techniques and editing.
During the workshop, participants exchanged cultural information, community stories and family experiences. The Australian participants, Andrea and Lorraine from Yalata (South Australia), presented their community's stories about the impacts from the atomic testing in South Australia, led by the British government in the 1950s and 60s.  They did a wonderful job of representing their community- and showed many photos, gifted cultural artifacts and screened a short ABC news video with Andrea's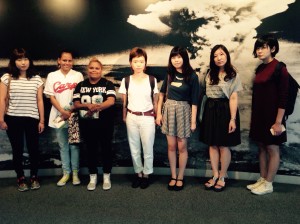 grandmother in it, that gave an overview of the history and the making of the book Maralinga: the Anangu story (Allen and Unwin, 2009). Everyone was very interested.
Some moving and sad stories from Nagasaki and Hiroshima were shared from the Japanese participants about their grandparents' and families' experiences of the 1945 atomic bombings. There was also the opportunity to exchange online with one of the Kazakh participants from the 2014 GHP workshop held in the Marshall Islands, Aidana, who shared her family's story from Kazakhstan and the impacts of nuclear testing by the Soviet Union.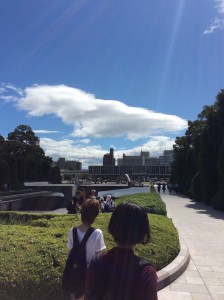 On the afternoon of the last day, time was spent at the Hiroshima Peace Museum and Peace Park. Local Hiroshima workshop participants guided the group around the peace precinct and conveyed the city's atomic history. The workshop delegates also had time to socialise across the three days, enjoying shopping, dining and site-seeing together around Hiroshima. Good connections between international participants were developed.
The workshop is the second in a series of three, and was facilitated by Dr Bo Jacobs and Dr Mick Broderick as part of the Global Hibakusha Project. The aim of the workshops is to help third generation representatives from nuclear affected communities develop and maintain community history, and create international networks.
For the Australian delegation, their one-week Japan experience included visits to Tokyo, Nagasaki (to see the Nagasaki Peace Park) and site-seeing in Kyoto. Lorraine and Andrea were accompanied by Japanese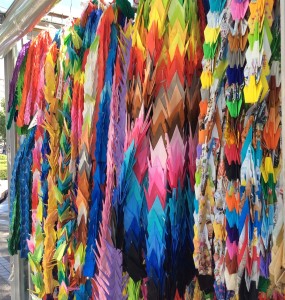 cultural liaison Rico Ishii, who provided rich insights and translation during the trip, and Nuclear Futures Program Manager Ellise Barkley.
The visit was supported by the Nuclear Futures program, as part of funding from the Australia Council for the Arts, and endorsed by the Yalata Community Council.