Sing 'Maralinga'
Yalata Band has been making contemporary music around the remote communities for several years, with energy, commitment to the songs, and a sense of humour. But Maralinga is also a place where British tested nuclear weapons in the 1950s and 60s.
In April 2016, singers and musicians from Yalata teamed up with singer/songwriter Johnny Lovett to record the single 'Maralinga' at a Umeewarra recording studio in Port Augusta.
Johnny wrote the song 40 years ago, in response to news about the legacies of nuclear tests. The song recalls the scene of devastation caused by the atomic bombs, and the subsequent impacts on Anangu communities.
Now Johnny has gifted it to the Aṉangu communities.
"Johnny Lovett wrote this from his heart, and now it's a gift that we are happy to accept", says Yalata musician Keith Peters. 
The 'Maralinga' song has been written in English and Pitjantjatjara, to help make this new choral version of the song. Choir member Mima Smart reflects, "Retelling stories of the families who moved to Yalata after the bombs is important for our community's survival".

In recognition of the song's release, a music weekend was held across 15th and 16th October 2016, where Yalata Band and Johnny Lovett ran a workshop at Tandanya National Aboriginal Cultural Institute and sang on the steps of Parliament House, Adelaide.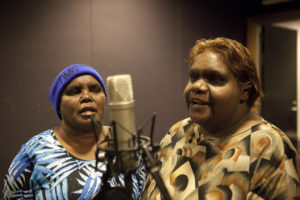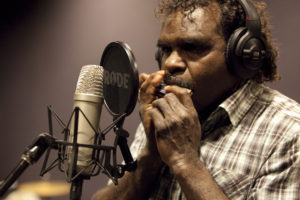 The music project was conceived during the 2015 inaugural Yalata Festival, and is an extension of the work previously undertaken by Alphaville production company with the Yalata community through the Nuclear Futures program. 
Credits:
Band – Johnny Lovett – English lyrics, music, lead vocal, guitars; Keith Peters – guitars; Russell Bryant – drums, harmonica; Leonard Jacob – guitars, bass, keyboard
Choir, sticks, translation – Mima Smart, Cynthia Charra, John Mungee, Glenda Ken, Roslyn Peters, Sharon Bryant
Crew – Joanne – translation, administration; Paul Brown – production; Jessie Boylan – photography, video; Jamie Ranzan – sound recording, mix; Doug Petherick – mix, additional bass; Grayson Rotumah – additional guitar
Thanks to:
Umeewarra Aboriginal Media Port Augusta 89.1 FM; Yalata Community Incorporated; CASM Studio Elder Conservatorium of Music The University of Adelaide; Augusta Hotel ; Pro Co Stage Sound Whyalla
The workshop and performance supported the Regional Arts Fund, Country Arts SA and Alphaville Arts Production. Many private donations also contributed via crowdfunding, and thanks is extended to all supporters.

Copies of the 'Maralinga' CD are available from Alphaville alphaville@iprimus.com.au
Watch ABC News clip for more about the project:

Below: painted Yalata banner hangs as backdrop to the Parliament House protest on October 15 against the proposed nuclear waste facility for South Australia.