Maralinga's Long Shadow – Book Release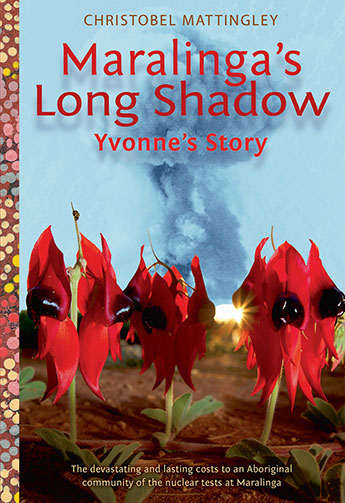 Building on the successful 2009 publication of Maralinga: the Anangu Story by Yalata and Oak Valley Communities with Christobel Mattingley (Allen & Unwin Australia 2009),  is the new release Maralinga's Long Shadow: Yvonne's Story. The book has been very well received and is shortlisted for the 2016 Educational Publishing Awards in the Secondary Student Resource – Junior English/Humanities category (winners announced 6th October, 2016).
Maralinga's Long Shadow is the powerful story of Yvonne Edwards, artist and community leader, who lived on or near the Maralinga lands, and the cost of the fall-out for herself and her family from the nuclear tests in the 1950s.
'Grandfather and Grandmother telling lots of stories. They had to live at Yalata. Their home was bombed. That was their home where the bomb went off. They thought it was mamu tjuta, evil spirits, coming. Everyone was frightened, thinking about people back in the bush. Didn't know what bomb was. Later told it was poison. Parents and grandparents really wanted to go home, used to talk all the time to get their land back.'
Yvonne Edwards was just six years old when the first bombs of the nuclear tests at Maralinga were detonated in 1956. The tests continued until 1963 and their consequences profoundly affected her family and community.
This powerful book, by award-winning author Christobel Mattingley, honours Yvonne Edwards' legacy as a highly respected artist and community elder.
Maralinga's Long Shadow was officially launched in June 2016 at Tandanya in Adelaide (click through to see selected photos from the opening). It is published by Allen & Unwin and supported by the Nuclear Futures program and arts company Alphaville, assisted by the Australian Government through the Australia council, its arts funding and advisory body.
Maralinga's Long Shadow is on sale now at all good bookshops.
For more information visit:
Allen & Unwin Book Publishers to purchase: click here
Teacher's notes available- click here
PRAISE FOR MARALINGA'S LONG SHADOW:
'Christobel Mattingley's a fine writer. This is a very special book to be read by any age group interested in real Australian history.'  -Yami Lester, OAM, nuclear test survivor
'A very moving account of Yvonne Edwards' life story. As the "last man standing" (with difficulty) of the cluster of army chaplains who – like many of Yvonne Edwards' family and friends – died of radiation cancers, I endorse the powerful message of Maralinga's Long Shadow. I'm convinced that the Maralinga mistake needs to be made more widely known.'
-The Reverand Canon Peter W Patterson
ABOUT THE AUTHOR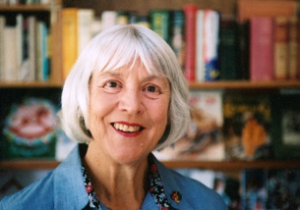 Christobel was born in South Australia in 1931. She has published 46 books for children. After working with Aboriginal people for decades, Christobel wrote the landmark history Survival in Our Own Land, and Maralinga: the Anangu Story with the Yalata and Oak Valley communities. She has received many awards for service to literature and commitment to social justice and cultural issues, including the Advance Australia Award, the Ekidnas Lifetime Recognition Award and UNESCO (Adelaide Chapter) Award. She was made an Honorary Doctor of the University of South Australia, a Member of the Order of Australia, and an Honorary Doctor of Letters of the University of Tasmania.
Click here for official Christobel Mattingley site.
REVIEWS
BuzzWords Magazine, by Dianne Bates: "It is a moving tribute to a wonderful woman." See review.
Sydney Morning Herald, by Fiona Capp: "While there was much grief in her life, Edwards' spirit is evident in the teeming intensity of her artwork that accompanies her story." See review.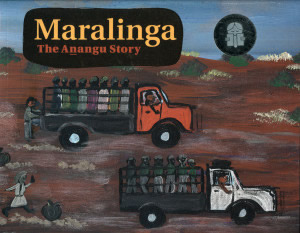 **************
Right:  Maralinga the Anangu Story by Yalata and Oak Valley Communities with Christobel Mattingley, Allen & Unwin Australia, 2009
**************
Post credits: This post is based on text and images courtesy of Allen & Unwin Book Publishers.
Proudly supported by