Arts and Justice Seminar at Tandanya 26 October 2016
As part of South Australia's 'Open State' program, and in conjunction with Tandanya National Aboriginal Cultural Institute, we present an evening seminar 'Arts and Justice'.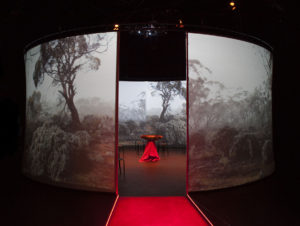 Venue: Tandanya, Kaurna country, 253 Grenfell St Adelaide
Time:  Wednesday 26 October
Seminar:  5.30-7.30pm
With special presentation of the 'Nuclear' showcase at Tandanya – screenings of immersive projections and gallery browsing at 4.30pm before the seminar, and after at 7.30pm.
This seminar brings together artists, community representatives, academics and other commentators to debate the role of the arts in achieving social justice and democracy. As a way of exploring how the arts provide public participation in vital decisions, the focal point will be the current debate about nuclear industry in South Australia, building on the resilience and inspiration of atomic survivor communities.
Tandanya's current showcase 'Nuclear' brings together the work of over 50 artists, many from remote indigenous communities; and the showcase will provide a case study for the seminar. For more information on 'Nuclear' please visit: http://nuclearfutures.org/nuclear-arts-showcase-at-tandanya/
At a time when communities need to be heard in critical debates, the arts have a role in bringing forward those voices that may otherwise remain unnoticed.
Panel and discussion
Artists involved with the 'Nuclear' creative arts showcase
Aboriginal community representatives
Nuclear veterans
Academics and commentators
The arts provide recognition of historical events and legacies while exploring ideas and viewpoints as future plans are debated. By attending this seminar, participants will explore the way the arts makes new knowledge relevant to social and political decision making; and they will address the question: "Can social justice can be achieved through the recognition and knowledge building that flows from creative arts?"
The event is free. Register your interest now:
Please phone Tandanya on 08) 82243200
Or Alphaville's Creative Producer Paul Brown on 0414 385570