Hiroshima Youth Leadership Workshop
Australian delegates participate in training workshop for third generation Hibakusha- September 2015, Hiroshima
From 8 – 10 September, the second in a series of three international workshops for third generation hibakusha was run in Hiroshima, Japan. (Hibakusha is the Japanese word for a survivor of radiation exposure from nuclear weapons). Attending participants were all the grandchildren of people who have experienced either nuclear attack or nuclear weapon testing. The workshop was held at the Satellite Campus of Hiroshima City University and involves six participants from Hiroshima, Nagasaki, and the Yalata Community of South Australia (SA).
The Australian participants travelling to Japan were Andrea Windlass and Lorraine Garay, both residents of Yalata. Yalata is a remote Anangu community on the far west coast of SA 1,000 kilometres from Adelaide by road (population approx. 300). The community is primarily Pitjantjatjara Anangu who descended from the desert people in the north and north-west of SA. Their families were removed from their land prior to the Maralinga atomic bomb tests in the 1950s and resettled on the lands that became Yalata. Pitjantjatjara is the first language of the Anangu and English is the second language.
Hiroshima and Nagasaki were the only two cities to have been directly attacked with nuclear weapons, in 1945. Japanese participants Yui , Kazuho and Chikako are the grandchildren of hibakusha from Hiroshima, and Haruka is the grandchild of a hibakusha from Nagasaki.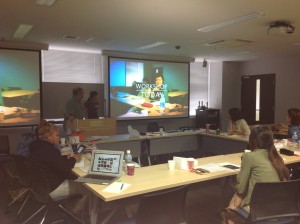 The Hiroshima workshop provided extensive training on conducting oral history interviews. Participants were trained on the ethics of oral history interviews, preparation and conducting the interviews, filming and editing the interviews, and on how to deposit the testimonies into digital databases.
The goals of the workshop series are both to train youth in nuclear affected communities to develop and maintain community history, and to facilitate the emergence of global community among youth living in places affected by exposures to nuclear radiation.
The workshop is a joint project of the Global Hibakusha Project and the Nuclear Futures Partnership Initiative (hosted by Australian arts company Alphaville). It is funded by both the Australia Council for the Arts via the Nuclear Futures Partnership Initiative and Hiroshima City University. The first workshop of the series was held in 2014 in the Marshall Islands.
Global Hibakusha Project leaders Dr. Robert Jacobs of Hiroshima City University and Dr. Mick Broderick of Murdoch University facilitated the workshop.